Description
This kit includes the hub and bearings, as well as a stub axle to suit. Includes washer, lock nut and split pin. The stub axle is 300mm long x 40mm dia.
Stub axle & bearing details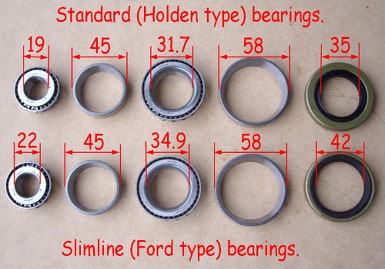 There are two sizes of stub axles commonly used for spare wheel carriers, standard and slimline.
Our products are supplied with the standard size stub axle and bearings.
If you already have a stub axle, such as on a rear bar, you can check to see which one you have from the above measurements. If you have the bigger 'slimline' stub axle the hub will still work, but you will need a different bearing set.