Our most popular kit. These are the hard to find bits and pieces you'll need to build a swing away spare wheel carrier.
Description
Includes:
Hub
Bearings and seals
Stub axle
Adjustable wheel mounting assembly
High tensile bolts and washers
The hub is fully weldable as it's machined from hollow steel section….it is not a wheel hub that has had the flange machined off. It's been manufactured specifically as a flangeless hub and is brand new and made in Australia. Comes with full bearing and seal kit. Dimensions of the hub are 70mm x 100mm. The hub is mounted on tapered roller bearings which means very smooth operation and no movement. Bearings are sealed and capped for protection from dust, water, etc. Bearings are the same as on a trailer wheel, so you should never wear them out. Just pack the bearings with grease the same as you would for a wheel. The stub axle is 300mm long x 40mm and can be welded.
The inner and outer sleeves of the wheel mounting assembly allow for adjustment to suit different tyres and wheel offsets. The face plate and outer sleeve have been laser cut. The inner sleeve has the captive nuts welded in and the bolts are high tensile M16. The face plate is 6mm laser cut plate – just drill it to suit your stud pattern.
What else do I need to make a complete wheel carrier with this kit ?
The main thing you'll have to work out is how you will attach your wheel carrier to your particular vehicle. Because every make and model is different, you'll have to find a strong mounting point, such as the chassis or a heavy duty rear bumper. If you're mounting to the chassis, for example, you will need to make a bracket that bolts firmly to the chassis and incorporates the stub axle from the kit.
You will need to make the main beam and upright of your carrier. The kit is designed around the main beam and upright being made from 75 x 50 RHS, but you might choose to use other sizes depending on your own design.
You will need other bits and pieces of steel depending on your design.
Check out some customer projects for inspiration.
Stub axle & bearing details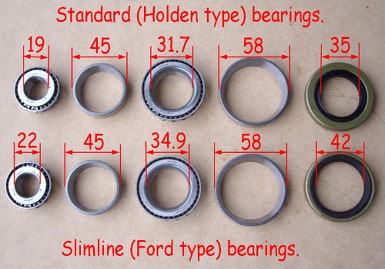 There are two sizes of stub axles commonly used for spare wheel carriers, standard and slimline.
Our products are supplied with the standard size stub axle and bearings.
If you already have a stub axle, such as on a rear bar, you can check to see which one you have from the above measurements. If you have the bigger 'slimline' stub axle the hub will still work, but you will need a different bearing set.